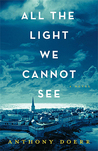 All the Light We Cannot See by Anthony Doerr
All the Light We Cannot See is an easy read, and it is not an easy read. The narrative moves quickly and pulls the reader along, but the details of the depravity that characters face because of Nazi madness will haunt the reader's dreams. The characters are well developed, and we see their doubts and convictions, fear and courage, humor and anger throughout. We wonder, as Werner does of one of his comrades, what they could have become if not for the madness they endure.
Also impressive is the descriptive detail. When Etienne is obliged to surrender his collection of radios, Doerr takes pains to identify each radio. We see the streets of Saint Malo through Marie's sightless understanding of it. How many storm drains to the corner? What creatures inhabit the grotto where Marie wades in the sea?
The nonlinear narrative requires some mental energy. We read about a circumstance or event at the chronological end of the story and we can infer from that circumstance or event the outcome of a crisis that is earlier chronologically but comes later in the text.
Some years ago I read The Sojourn, a novel set in Austria-Hungary and Italy during the first World War. I still have mental images from some of the scenes and events in that book. The same will no doubt be the case with All the Light We Cannot See.
Thanks as always for stopping by.
Pat